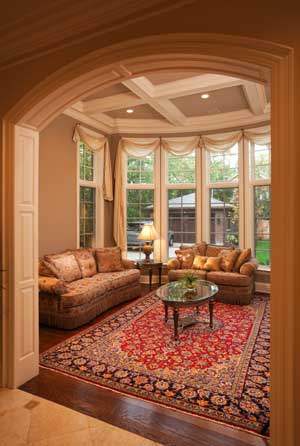 Price quotes on cleaning their Oriental rugs, custom area rugs, or even inexpensive machine woven area rugs tend to be on the high side.  This occurs because many companies will only offer offsite or plant cleaning which includes having them picked up, sent to a plant for processing, neatly wrapped, delivered and unwrapped, and re-laid. This is expensive because the cost of operating a plant, and, pick up and delivery transportation costs increase the price tremendously. Some companies are merely middlemen who mark up the price but don't perform the cleaning themselves.  But not all rugs need to be sent out for cleaning.  An alternative is cleaning rugs at your home which is typically far less expensive and much more convenient to the homeowner.  Instead of having to schedule a pick up and then a delivery, the job is completed in one trip.  For many rugs, on-site rug cleaning is often practical and far less expensive. Unlike some companies that don't offer this option, this is a service we offer. For rugs that qualify, our customers save over 50% and the process requires less scheduling hassles.
The decision to clean on-site generally relates to the condition of the rug, the construction of the rug and sometimes the value of the rug.  Equally important, if a rug is being sent out, it should go to a dedicated facility with the proper equipment.  This involves very expensive drainage systems that are necessary for the plant to operate.  The increased costs are an investment so there should be a valid need for this type of processing and the customer should get the benefit of complete plant processing.
Some companies merely take the rugs out, duplicate what is done on-site, and charge a premium because of take out and delivery and packaging.  In this instance, there is very little extra value and the cost is high.
Condition
If a rug has very severe odors such as those caused by animals, it's probably a good decision to send it out providing it's being done properly.   There are a variety of methods such as washing on elevated tiles or in a washing pit to allow complete release of the contaminants as found in mini plants. Larger facilities have automated equipment to process many rugs at once.  The experience of the person cleaning the rugs is usually the most important factor.  Conversely, if the rug doesn't have severe problems,  on-site cleaning is a great alternative.
If you need to send rugs out to a plant for cleaning, washing pits are an ideal option as they allow dirt and contaminants to properly rinse out.  While some plants spray rugs with a high pressure equipment, washing pits are more effective.  Since having rugs cleaned at a plant is far more expensive, it's advisable to ask questions about the process to ensure that your investment is well worth it.

Construction
Certain rugs require very specific processing such as those requiring repairs or because of the construction of the rug. Those often need to be sent out, set up carefully and done by hand which is expensive. Repairs range from simple to highly complex. There might be research involved, fabricating dyes to match the originals because they're no longer available, intricate re-weaving, and craftsmanship so that the work is a complete success. Also, some customers need their rugs to be stored. these are special situations where plant processing might be preferable.  However, most rugs don't fall into this category.
Value
Value relates to many factors such as whether the rug is hand made vs. machine made, construction, origin, age and other characteristics.  From a cleaning standpoint, value becomes more of a factor if the rug is inexpensive since sending it out can be very costly relative to value, or the cost sometimes exceeds the value.  In instances where there are recurring issues such as those caused by pets or toddlers, repeatedly sending out rugs only to have them re-soiled is impractical as the expenses add up quickly. On the other hand, regardless of the value of the rugs, if condition and construction are not a concern, most rugs can be cleaned just as effectively on-site and the tremendous savings and convenience are a real benefit.
Many people recognize that cleaning is a typical part of maintenance regardless of the value of the rug.  Because our prices are very reasonable, our on-site cleaning process option will be affordable for all rugs and you will love the convenience of not parting with them.  Two things worth noting are advertisements listing free pick up and delivery is misleading since those costs are factored into the far more expensive rates.  Pick up and delivery is time consuming and obviously transportation costs represent real expenses.  Secondly, there is a wide range of prices in the market place for plant processing.  As a consumer, you have the right to understand who is cleaning the rug and where the cleaning is being done.  Some companies outsource their work and mark up the prices which ultimately inflates the market rate of plant processing in general, and that unfairly causes rates to spiral upward.
Our On-Site Process
The perimeter of the rug is hand cleaned with a special tool designed for this purpose. The borders of rugs are typically sensitive to high traffic and should be cleaned thoroughly to avoid premature damage to the edges.
The rugs are properly prepared during the cleaning process.  We avoid the use of pre-sprays  by relying on equally effective cleaning techniques that are better for the rugs and avoid the possibility of residues.
The appropriate water temperature is used to avoid bleeding or impact to the dyes.
The carpet is cleaned with enough repetitions using tools that won't alter the texture of the rug and repeated dry passes to ensure that much of the moisture is extracted.
High quality cleaning agents are used that are safe, non-toxic and biodegradable. There are instances where specialty cleaning supplies are used to attempt to resolve problems such as yellowing due to pet stains or removal of substances such as paint, ink or anything that might alter the surface color of the rug. Those cleaning agents are used at a minimum and thoroughly rinsed out.
We move and position the furniture in their original location, and use disposable protective tabs and blocks where necessary.
Mamaroneck, NY 10543  (914)-391-2197      Mt. Kisco, NY 10549  (914)-242-3944      Greenwich, CT 06830  (203)-869-4158      Stamford, CT 06902  (203)-348-4647